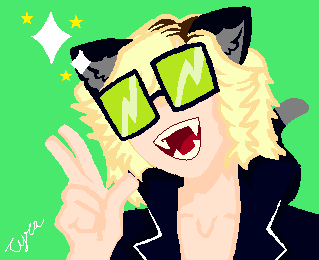 Howdy I'm Tyra! I'm 18 years old and I'm a senior in highschool and I like to think I'm certainly someone. I go by he/they and I'm bisexual. I've got some really cool friends and I really love to make jokes. I'm an artist and I really love video games. I love a lot of things, there's too much to count. I don't really know what I want to be or where I'm going, I am simply living at the moment.
I run an mgs gimmick account with two friends! we like to post our funny jokes there
Interests
Amphibians
Metal Gear Solid
antiques
old internet stuff
indie games
Hack n' slash games
Legend of Zelda
metroidvanias
I'm very interested in video games, emulation, and archiving and preservation!( I have a whole page about it)
As I said before, I'm an artist! here's some artists that inspire my work
Hirokiko Araki
Takato Yamamoto
my friend Alex
Mari Shimazaki
here's some of my favorite bands and music artists!
Kero Kero Bonito
Red Vox
Tatsuro Yamashita
Blur
The Cure ( I am not a Smiths fan(( I could never((unlike somebody I know)))
Weezer ( im sorry)
Talking heads